Portland Rocks CIC
Portland Rocks is a Community Interest Company that enables young people to take part in free weekly workshops to practice their musical skills and learn from professional musicians.
They've taken part in the closing ceremony of the 2012 Paralympic games in Weymouth as well as the National Festival of Music for Youth Regional and National festivals. They support numerous community events and offer accreditation through the National Arts Award.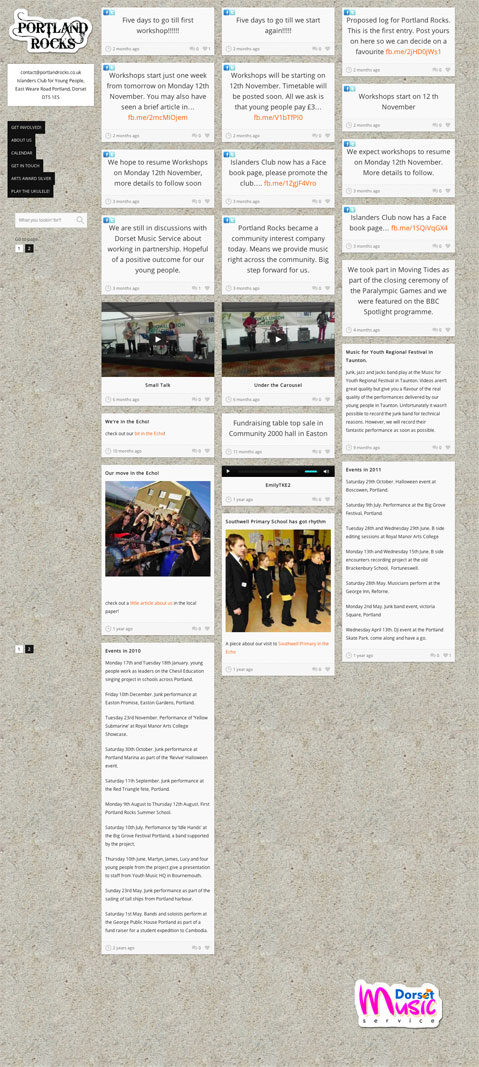 In 2012 they gained funding from the Co-Op, having been funded for the previous three years by Youth Music. They needed a web site that addressed a range of audiences. It had to be engaging for young people to interact with, easily accessible for potential adult users of our services and the first point of contact for the numerous arts organisations and potential funders of national standing that they engage with.
The site works beautifully on smartphones and aggregates all the conversations that happen on Facebook, Twitter, YouTube and Myspace; cross-publishing content and comments to help build the community of young musicians between workshops.
The whole experience has been great and the site you have designed has transformed how people see us on the web. We are now working hard to get our young people and the wider community using the site.
Martyn Mullender,
Director, Portland Rocks CIC